Just a few updates from the weekend. On Friday, I flew back to Denver after visiting my family. We had just crossed the Kansas/Colorado border when the pilot (or whoever it was) let us all know that the Denver airport was closed due to storms, so we'd need to circle for awhile. Eventually, we flew south to the New Mexico border before turning back to Denver. We had no other problems landing, but we were in the air an hour and a half longer than originally scheduled.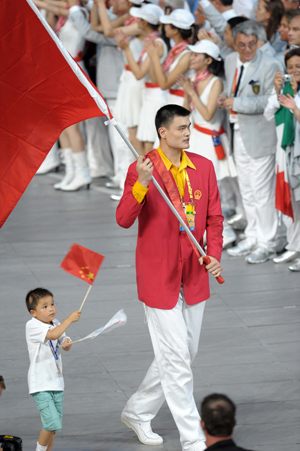 On Saturday and Sunday, Shawn and I really didn't do much. We stayed at home and watched a lot of Olympics. It was really nice to just relax and enjoy each other's company. That was probably the last relaxing weekend we're going to have for awhile! As far as the Olympics go...there are some things that I'm loving and some things that are confusing or irritating me. I loved the story about the little 9-year old boy who went back into his school after it had collapsed in the earthquake in order to save his classmates. When asked why he did it, he said, "I'm a hall monitor; I have responsibilities." I loved that American swimmer Katie Hoff proved all the announcers wrong. They kept saying that she might medal, but she'd never beat the Italian, Pelligrini. Hoff won the silver, only losing gold by .07 seconds! And Pelligrini came in 5th. And of course, there was the amazing 4x100 freestyle relay! It was an incredible race to watch, and the American team beat the French (the French team that the announcers, again, were insisting couldn't be beat). The hero was Jason Lezak (the one
diving into the pool in this picture), who did his leg in a World Record time of 46 seconds! The only huge downside was the media focus on the fact Michael Phelps was part of that team. Yes, he won another gold medal...but so did 3 other guys!! And I was irritated by the American who referred to the French team as "the Frenchies." Yeah...real classy.
In non-Olympic news...if we weren't planning on moving to Seattle soon, I would be back at work today. At the school where I've taught the last 5 years, teachers had to report at 7:30 this morning. I thought about that when I woke up at 9:30 and smiled. :)