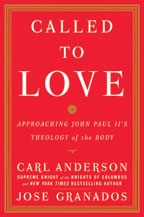 Called to Love: Approaching John Paul II's Theology of the Body
by Carl Anderson and Jose Granados, 2009. (244 pages)

I won this book through the Goodreads First Reads program. I was intrigued by the title, as I've been wanting to learn more about John Paul II's Theology of the Body. That being said, for whatever reason, it took me forever to read this book!

JPII's Theology of the Body is actually from a series of talks that the Pope gave during his Wednesday audiences over a period of a few years. It's basically a series of teachings that shows the holiness of God's design of the male and female body, as the Bible tells us that we are "made in the image of God." This book explains the concepts of JPII's teachings. There is a definite emphasis on sex within marriage, although the book does discuss what these teachings mean for those who are single or who are consecrated virgins.

Truth be told, I would give this book 2.5 stars. I really wanted to love it, but I had trouble getting into it. I was hoping that the book would be very easily understood by a layman (like me), but I felt like it ventured into philosophical language a bit too much. There were times when the reading got too heavy, and I found myself feeling determined to just plow through it (instead of soaking it in and enjoying it).

I have read a couple other reviews on Goodreads that lead me to include one other "warning" here. If you choose to read this book, you need to understand that it is absolutely Catholic teaching. There shouldn't be anything offensive in the book (it doesn't disparage those of other faiths in any way); however, if you're not Catholic, you may find yourself disagreeing with certain aspects of the book. Please understand, again, that the author is simply discussing the teaching of John Paul II...and those teachings are 100% Catholic.
*****************************************
Total number of books read in 2009: 30
Total number of pages read in 2009: 11279